Focal Polyglass subwoofer speakers box design plan,subs loudspeakers Speaker Box enclosure design diy how to building subwoofer box projects loudspeaker plans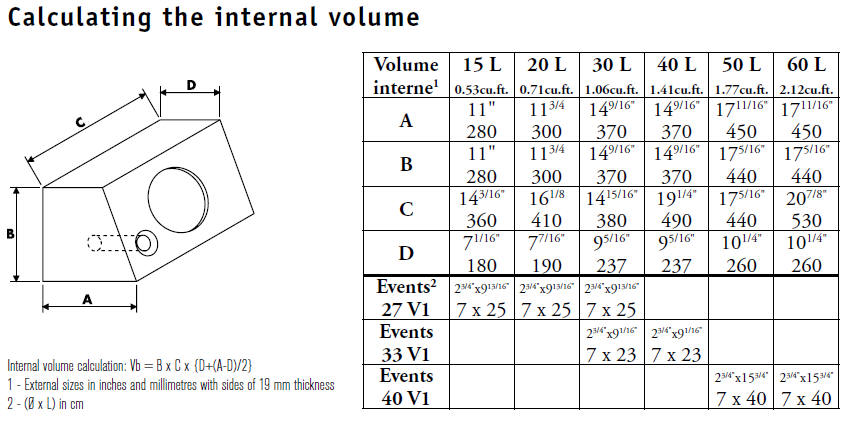 Focal Polyglass subwoofer box enclosure design plans 27V1, 33V1, 40V1
Adjustment of low cut off frequency
The cut off frequency of a subwoofer is normally in the region of 60 to 100Hz. This is always
dependent on the particular installation and listening position. A frequency of 80Hz is a good
compromise for effective bass compared to listening quality.

Subwoofer Enclosures
Focal offers 4 ready-to-use optimized enclosures. If you decide to 'brew your own', it is safest to go for a
bass-reflex type. This classic simple alignment usually give the best and most consistent results.
See page 12 regarding our proposals for the various volumes available per subwoofer.

Bass-reflex subwoofer boxes
A bass-reflex system is more efficient than the closed box since some of the energy from the rear of the
cone is converted via the reflex port to add in phase with the main output. There is also a reduction of
cone travel at the tuning frequency, so this system can also give higher power handling. However, at very
low frequencies bass rolls off faster (24dB/octave). In simple terms, bass is louder, but not quite as deep.
You can make a reflex port from a piece of plastic pipe, or there are many flared ports custom designed
for loudspeakers that minimize turbulence (prevents what's commonly referred to as chuffing).

Building an Focal Polyglass woofer enclosure
The construction should always remain strong and rigid, to eliminate any unwanted resonances.
A good material such as MDF (Medium Density Fibreboard) will effectively ensure this is possible.
Choosing the correct thickness of MDF compared to the surface area decided, is also critical to ensure
the enclosure does not vibrate. For this reason the general thickness recommended is 19mm MDF. Any
loose components such as the internal connections and cables should always be fixed securely inside.
Damping material (foam etc) covering all the internal walls of the enclosure, will further ensure it is free
from unwanted resonances. It is imperative that your custom designed subwoofer enclosure remains
securely mounted at all times to the vehicle.
Connections subwoofer (27 KX)
The 27 KX subwoofer uses a single
4 ohms voice coil, thus consists of a
single input terminal (fig. B). Verify the
output stage and if your amplifier has
a bridging function, to gain further
benefit, use it. Ensure it is compatible
with a 4 ohms impedance load.
Connections subwoofer (33 KX and 40 KX)
Both 33 KX and 40 KX subwoofers,
use a dual voice coil, thus each
consist of two input connectors. To
achieve high power integration to
your system, we recommend the
two connectors, are connected in a
parallel circuit formation (fig. C). In
this situation, an impedance load of
approximately 1 ohms will be present.
For connection to the amplifier, it is
important to ensure such low load
is compatible. It is also possible to
connect the voice coil into a series
type circuit, producing an impedance
load of approximately 4 ohms (fig. D).
This is generally recommended if your
amplifier is not compatible to low load
impedances of less that 1 ohms. The
33 KX and 40 KX can also benefit from
"Bi-amping" configurations (fig. E). It
is important to ensure both amplifiers
are of the same specification and
power rating. Also a traditional 2
channel stereo amplifier (high power
recommended) can also be used,
allowing further installation flexibility.
Sealed / closed box enclosure
All K2 Power subwoofers (except
the 46 KX 4) have been carefully
optimised to work in sealed or closed
box enclosures. This type of enclosure
ensures sub bass frequencies remain
full and controlled. The available
excursion of the sub is far more
stable, for controlled linearity limiting
distortion, ensuring maximum performance
is maintained. The added
benefit of a properly defined sealed
enclosure, is that it remains comparatively
small in size. Compared to a
defined bass reflex enclosure, which
normally has a slight increase in
the sound pressure level, K2 Power
subwoofers have improved power
handling characteristics. Therefore
this slight reduction of level can
be compensated, with increased
amplification.