24V to 220V 1000W DC AC sine wave inverter for photovoltaic solar system
schematics free electronic circuits diagram wiring design plans schema DIY projects handbook guide tutorial schematico electrónico schématique diagrama esquemático projeto elektronisch schematisch schaltplan schematy circuito shema схема
skematisk Schaltbild schematisk schaltung application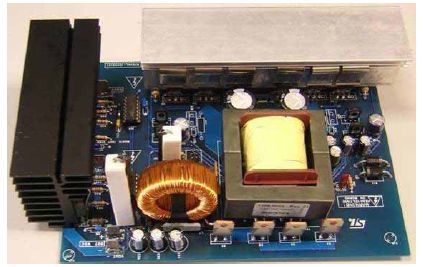 1000W dual stage DC-AC converter, suitable for use in battery powered uninterruptible power supplies (UPS) or photovoltaic (PV) standalone systems. The converter is fed by a low DC input voltage varying from 20 V to 28 V and is capable of supplying up to 1 kW output power on a single-phase AC load.
These features are possible thanks to a dual stage conversion topology including an efficient step-up push-pull DC-DC converter, to produce a regulated high-voltage DC bus and a sinusoidal H-Bridge PWM inverter to generate a 50 Hz, 230 Vrms output sine wave.
Other relevant features of the proposed system are high power density, high switching frequency, galvanic isolation and efficiency greater than 90% over a wide output load range.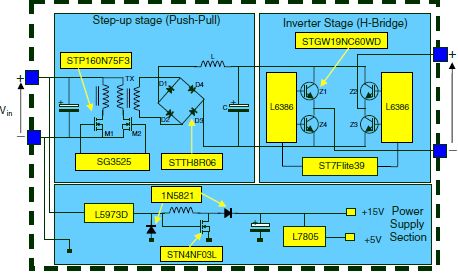 Download schematics (PDF):
1 kW dual stage DC-AC converter based on the STP160N75F3
| | | |
| --- | --- | --- |
| | Search electronics schematics | |
| | | |