Car LED light driver circuit diagram
The MLX10803 evaluation board circuit diagram was designed to provide an easy solution for demonstrating the use of high brightness car LEDs light in conjunction with the MLX10803 LED driver chip. It is suitable to be driven under car supply conditions (12V board systems) and is optimized in terms of electromagnetic emission behaviour to be able to fulfill automotive standards. If good emission behaviour is not an issue (e.g. industrial/consumer applications), smaller caps (for C1/C2) as well as an unshielded coil can be used. Thus, size and cost can be reduced once more.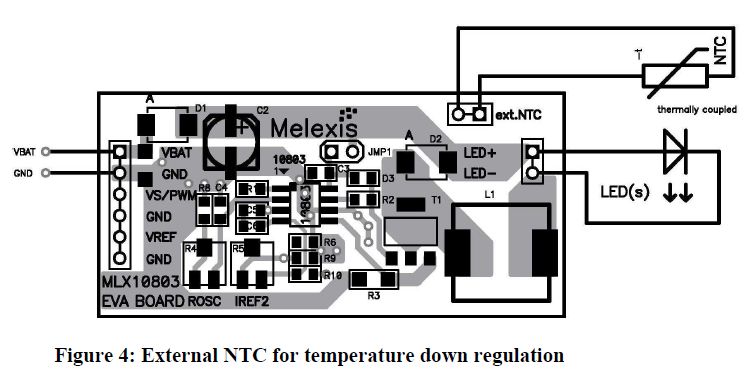 For normal operation only a few connections are necessary. The supply line VBAT must be connected to any standard DC supply. The input voltage should always be about 2V higher then the sum of all LED forward voltages in order to keep the regulator working. The supply must be able to drive the peak LED current that is defined with the IREF2 potentiometer. The LED(s) is (are) connected to the board via a polarised plug to avoid incorrect connection.

LED(s): - all High Brightness LEDs, e.g.:

Lumileds Luxeon® , Lumileds Luxeon III

Cree XLamp™ 3 7090 series, Cree XLamp™ 7090 series

OSRAM (Advanced) Power TOPLED® , OSRAM Golden Dragon®

Nichia POWER LED Series

Download Source: Evaluation board EVB10803 Power LED driver for automotive applications www.melexis.com
12V or 24V in DC Constant Current Car LED Driver circuit diagram
ON Semiconductor's latest monolithic NCV51411 (CS51411) converter is to be used in a buck topology optimized to drive a single car LED at a constant current between 350 mA to 1 Amp. A high side, low drop, current sensing scheme has been implemented, targeted for car automotive and other high efficiency applications. DCR Inductor current sensing is used to generate the control ramp required for the V2 controller.
This design note targets a constant current (350mA to 1 A) driver suitable for driving a single car LED (1 watt or 3 watts) from a nominal 12 V or 24 V dc source. The output voltage range assumes a single White/Blue/Green LED with a forward voltage of 3.6 +/- 35%.
Source: ON Semiconductor