12V LED circuit diagram Switching Constant Current Driver circuit diagram
Download source: 180KHz 60V 4A Switching Current Boost LED Constant Current Driver
http://www.xlsemi.com/datasheet/XL6005%20datasheet.pdf
Switching LED Constant Current Driver circuit diagram XL6005 regulator is fixed frequency PWM Boost (step-up) LED constant current driver, capable of driving Series 1W/3W/5W LED units with excellent line and load regulation. The regulator is simple to use because it includes internal frequency compensation and a fixed-frequency oscillator so that it requires a minimum number of external components to work. The XL6005 could directly drive 11 Series 1W LED units at VIN>12V .
Applications: LED Lighting, Boost constant current driver, Monitor LED Backlighting 7' to 15' LCD Panels
Wide 3.6V to 32V Input Voltage Range, 0.22V FB adjustable LED drive current, Directly drive 11 Series 1W LED at VIN>=12V, Fixed 180KHz Switching Frequency Max. 4A Switching Current Capability, Up to 94% efficiency, Excellent line and load regulation, EN PIN TTL shutdown capability & With PWM Dimming Function.
LED driver circuit diagram VIN=12V to driver 11 x 1W series LED units
LED driver circuit diagram

VIN>=12V to driver 6 x 3W series LED units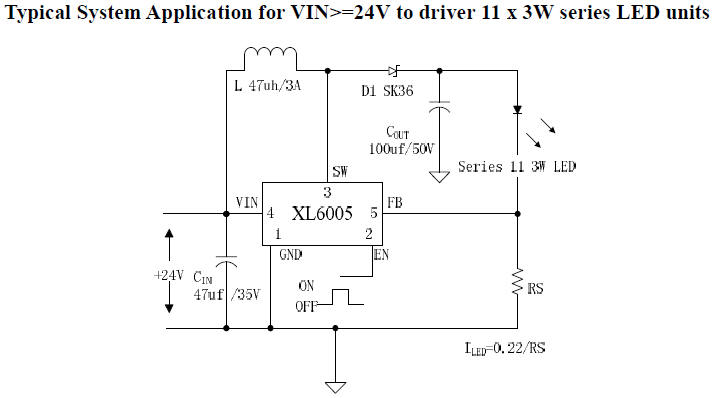 LED driver circuit diagram

VIN>=24V to driver 11 x 3W series LED units
TLED driver circuit diagram VIN>=12V to driver 11 series x 40 parallel
White LED Array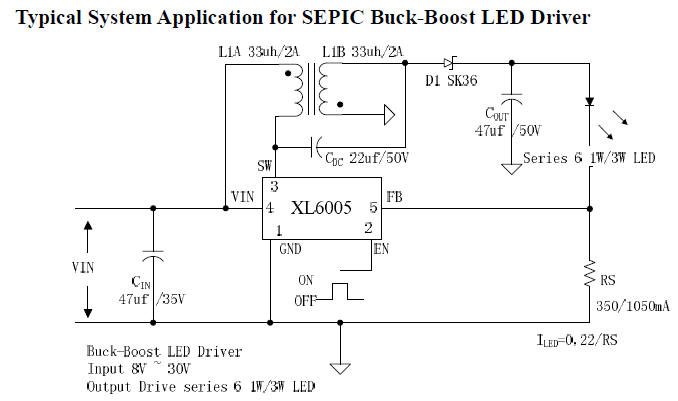 LED driver circuit diagram

SEPIC Buck-Boost LED Driver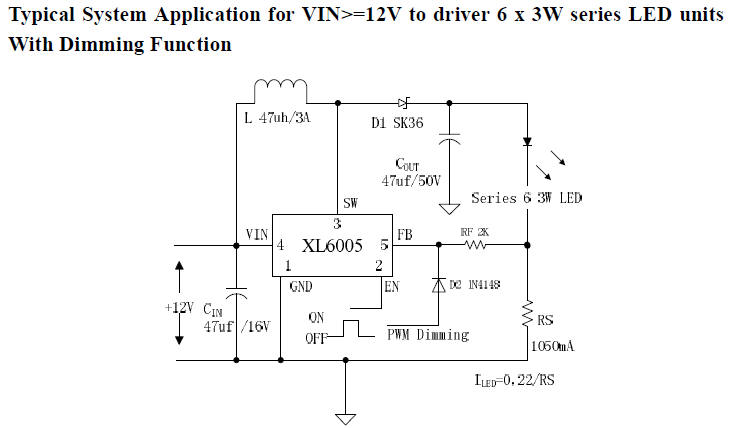 LED driver circuit diagram

VIN>=12V to driver 6 x 3W series LED units

With Dimming Function

All leds must be used with current limiting resistor

Driving One 350 ma LED from a 12V source. 12V AC-DC MC34063 LED Buck Driver

The parallel connection of LED modules in a 12 V system requires some means of current stabilizationto keep the current constant, which in turn is associated with an energy loss of at least 17.5%

Step – by – Step Kit Instructions for: Summer Lights 12v LED

12V or 24Vin DC, Constant Current LED Driver

1 A, 12 W Constant Current Off-Line LED Driver a

Current Limiting Power Resistors for High-Power LED Module Lighting Application

High Efficiency 12V White LED Driver

12 Volt Knight Rider LED display

How To Install Resistors For LED Bulbs